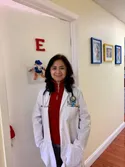 Dr. Lea H. David received her medical degree in the Phillipines. She completed her ob-gyn residency in the Phillipines before coming to America. She completed her pediatric residency at UMDNJ- Robert Wood Johhson Medical School.
She was an assistant clinical professor at RWJ Medical School. She has two decades of general pediatric experience. She practiced at Pediatric Associates of Holmdel from 1997 until 2009. From 2009 until 2020 she was a partner at Miguelino & David Pediatric Associates.
She joined Ivy Pediatrics in 2021.